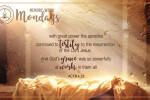 Come Worship With Us!
Sunday, April 8, 2018 // 10:30 am
2nd Sunday of Easter
SERMON TEXT: 1 Corinthians 10:1-13
SERMON TITLE: "Stand Strong Against Evil", Rev. Dr. Dennis Lesher
---
Opportunities to Connect
Fairview Dines Out Returns!
These dinners are fun events that provide an opportunity to connect over a home-cooked pot-luck style meal. Our first Dine Out event is coming in April. Sign up now so planning can get under way!!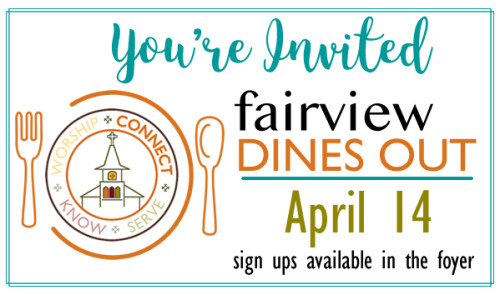 ---
Opportunities to Know
Weekly Memory Work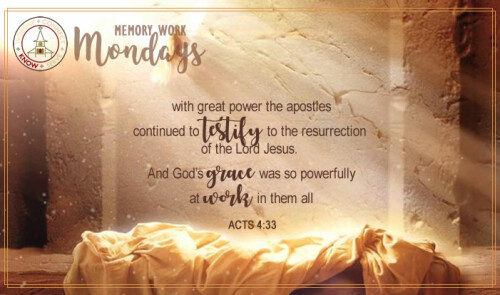 A Snippet of Reformed Doctrine
Q. 189. What Does the Opening of the Lords Prayer Teach Us?
A .The opening of the Lord's prayer (Our father in heaven1) teaches us that when we pray we should draw near to God, confident of his fatherly goodness and the benefits to us from that goodness,2 reverently and in every way like a child,3 and with heavenly feelings4 and a proper awareness of his sovereign power, his majesty, and his graciousness in allowing us to approach him.5 The opening also teaches us to pray with and for others6.
1. Mt 6.9.
2. Lk 11.13, Rom 8.15.
3. Is 64.9, Ps 95.6-7.
4. Ps 123.1, Lam 3.41.
5. Is 63.15-16, Neh 1.4-6, Ps 104.1, 113.4-6.
6. Acts 12.5, Zec 8.21.
Small Group Studies
Sunday Morning
Sunday morning studies for children, youth, and adults continue going strong and begin at 9:15 a.m. on Sunday. The Adult study, The Good Living Guide is under way.
Several Other Small Groups Meet During the week
Check out the website for a complete listing of All Small Group Opportunities.
---
Opportunities to Serve
There are always many opportunities to serve with your fellow Fairview family and friends. To learn more and/or sign up simply click on the opportunity(ies) that interests you below!!
Bagel Sunday Sign Ups // Volunteers Needed from April On
One of the four steps in the discipleship process at Fairview is CONNECT and one way we can connect is to share fellowship once a month over bagels, drinks, and goodies. Traditionally, we celebrate Bagel Sunday on the last Sunday of each month. For more details to understand just how easy it is to Serve in this capacity, click the image below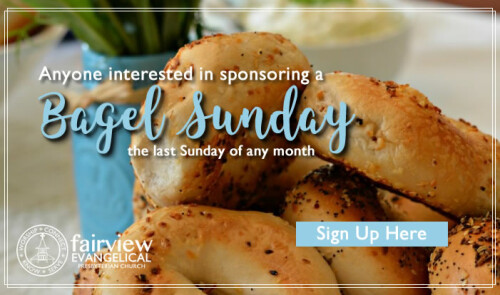 Good Works Day - April 6, 2018
We would love to have your help! Click here for more details.