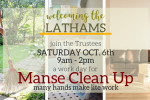 Come Worship With Us!
Sunday, October 7, 2018 // 10:30 am
Twentieth SUNDAY AFTER PENTECOST
SERMON TEXT: Romans 12:9-21
SERMON TITLE: "Do People 'See' Jesus in Me?" // Rev. Dr. Dennis Lesher
Two Short Weeks Away...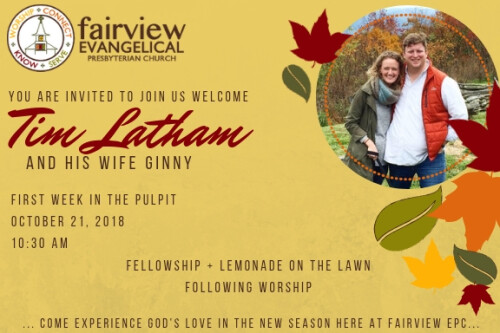 ---
Welcoming the Lathams // How Can You Help?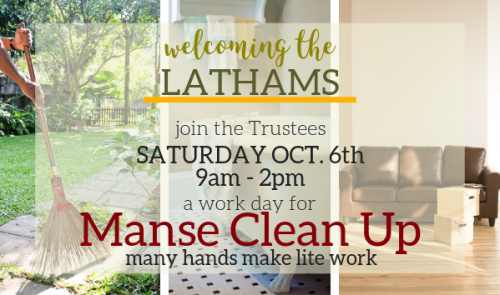 The countdown is on! Less than two weeks and Tim Latham will be on board here at Fairview. The trustees are hosting our Fall Work Day at the MANSE to be sure it is ready for Tim and Ginny. Join us this Saturday, October 6th starting at 9 a.m. and going til the work is done. Can't make it the whole time? No problem, offer as much or as little time as you can. Every hour helps and many hands make light work. Tasks to accomplish include: deep cleaning the kitchen and bathrooms; vacuuming and cleaning floors and woodwork; washing windows; cleaning the laundry room, some odds + ends outside, etc.
How can you help?? Bring a willing heart and hands ready to get dirty. And if you have a mop/bucket/broom that can be used for the day, bring that along too. The more tools, the more people that can work at the same time… the faster we make this home ready to Welcome the Lathams.
Click on the images below if you have missed the big news and updates from the past two weeks...
---
Opportunities to Connect
Fairview EPC has a reputation for it's warm acceptance and embrace of newcomers to our church. Let's be sure the Lathams feel our excitement, encouragement and love as we warmly welcome them in their transition, not only to Fairview, but to the community of Glenmoore.
Special scripture that has encouraged you through a similar transition? JOT IT DOWN! Have some "hometown insights" that would be helpful? JOT THEM DOWN! Excited to have them joining the Fairview EPC Family? JOT IT DOWN! Let them know the loving family they are about to join! Together we are all a part of Welcoming the Lathams!
---
Have You Signed Up?
Not only will there be fantastic food, fellowship and activities, but this will also be an opportunity to meet Tim Latham, the eve before his first Sunday preaching from Fairview's pulpit.

You're Invited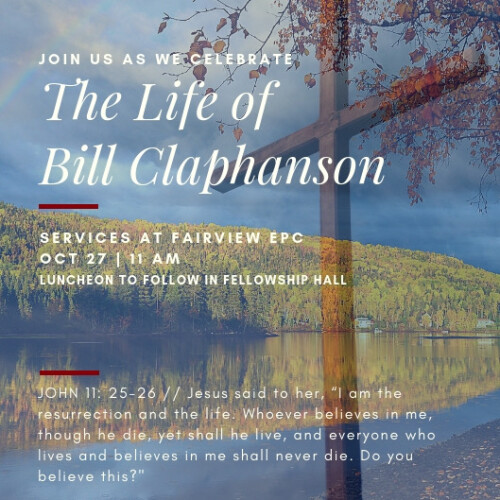 Great Opportunity for our Youth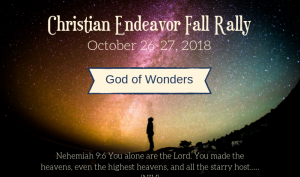 If you haven't looked into this wonderful opportunity, be sure to take some time to do so this week. Flyers are available from Amy Styer, on the foyer table or linked below. (Parents are welcome if your child is not used to staying overnight)
---
More Details Coming Soon
We have several exciting events in the works for the coming months. Click on the images for more details (as they become available).
---
Opportunities to Know
You are encouraged to "Stay in the Know" for all things Fairview EPC... Over the past year and a half since we launched our "remodeled" website, there has been a great effort to keep it current, useful and inviting to all. If you haven't been on the site in a while, grab a coffee and take 5 minutes to explore. Below are a few "highlights" (including navigation paths) that may be of interest to you...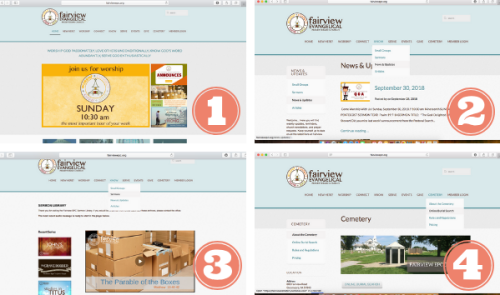 1. FAIRVIEWEPC.ORG // Where it all starts...
2. KNOW > NEWS & UPDATES // Did you know weekly emails are available online?
3. KNOW > SERMONS // Miss a sermon? Want to listen to one again?
4. CEMETERY > ONLINE BURIAL SEARCH // Did you know we now have an online burial search available for our cemetery?
How can you help make it better? Give us your feedback // Offer content... things you think should be out there and/or corrections that need made. The goal is for the website to be inviting to those in the community looking for a church family and useful to our Fairview Family and Friends.
---
Weekly Memory Work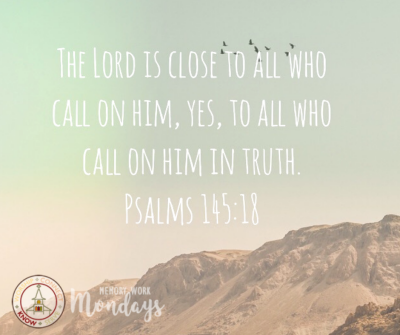 A Snippet of Reformed Doctrine // The Shorter Catechism

Q34. What is adoption?
A. Adoption is an act of God's free grace, whereby we are received into the number, and have a right to all the privileges, of the sons of God.
Q35. What is sanctification?
A. Sanctification is the work of God's free grace, whereby we are renewed in the whole man after the image of God, and are enabled more and more to die unto sin, and live unto righteousness.
Small Group Studies
All Studies Have resumed and are underway for the Fall!
To learn more about all that are available, simple click on an image below to read the full details!
---
Opportunities to Serve
Prayerfully consider where you can serve and share the love of God with others.
Christmas Decorating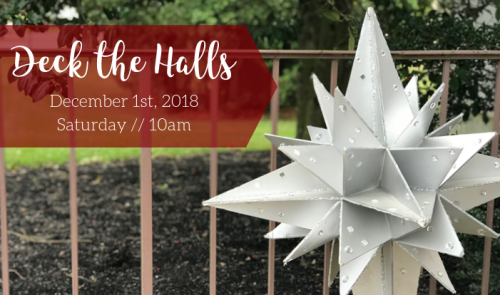 It's never too early to begin planning. We are planning to decorate Fairview EPC for Christmas on Saturday, December 1st beginning at 10:00 a.m. until ? Please mark your calendar & consider coming out to help.
This is a fun and festive family-friendly activity. A sign up sheet will be out on the Welcome Desk very soon. Any Questions contact Amy Styer.
Sign Ups are Ready
There are always many opportunities to serve with your fellow Fairview family and friends. To learn more and/or sign up simply click on the opportunity(ies) that interests you below!!
New Focus for October Collection