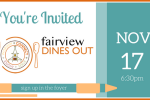 Come Worship With Us!
Sunday, November 4, 2018 // 10:30 am
All Saints' Sunday
SERMON TEXT: Matthew 5:13-16
SERMON TITLE: "The Church as Salt and Light" // Tim Latham
---
Opportunities to Connect
Contact Details for Tim Latham
In the event of a Pastoral emergency and you are unable to reach anyone in the office, lease contact Tim Latham at 434-426-7713. Tim can be reached via email at .
Fairview Dines Out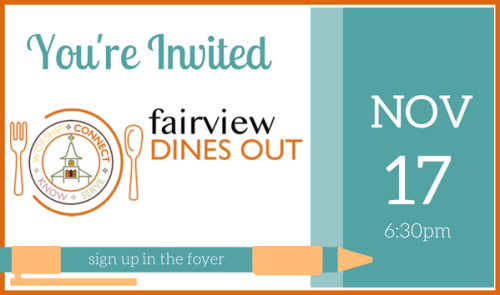 The sign up for this fellowship event is now available in the Church Foyer. Be sure to make your reservation!
---
Opportunities to Know
New Members Class Coming Soon
Are you interested in "taking the next step" of a more committed role at Fairview EPC? If your answer is "yes", WONDERFUL! Please send Dennis Lesher an email with your name / email / phone number. A new members class is tentatively being planned to start in November 2018. Exact date and details to be announced.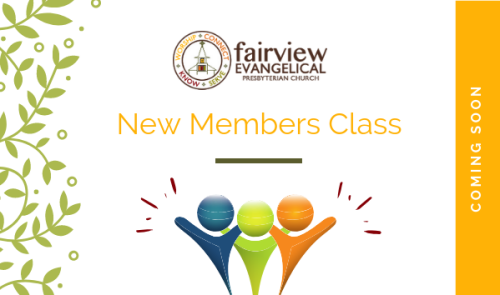 Weekly Memory Work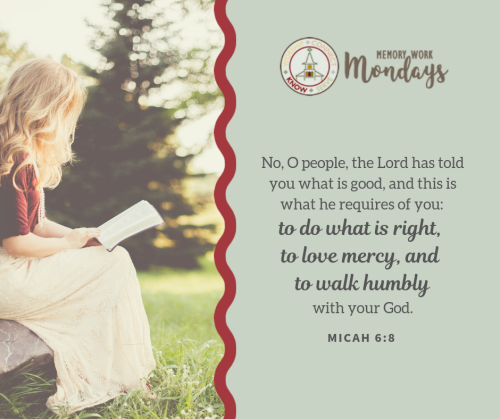 A Snippet of Reformed Doctrine // The Shorter Catechism

Q42. What is the sum of the ten commandments?
A. The sum of the ten commandments is, to love the Lord our God with all our heart, with all our soul, with all our strength, and with all our mind; and our neighbor as ourselves.
Q43. What is the preface to the ten commandments?
A. The preface to the ten commandments is in these words, I am the Lord thy God, which have brought thee out of the land of Egypt, out of the house of bondage.
Small Group Studies
New Sunday Morning Study to Begin November 11
Thinking about adding a Bible Study to your personal growth? Now is the perfect time... there is room for Y O U!!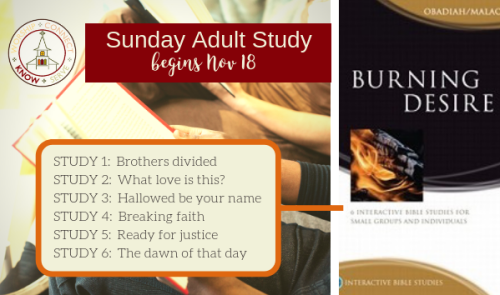 To learn more about all that are available, simple click on an image below to read the full details!
---
Opportunities to Serve
Want to learn more about opportunities to Serve with your Fairview Family and Friends. Simply click on an image below to learn more!
Prayerfully consider where you can serve and share the love of God with others.
Join the Good Works Team Saturday November 3rd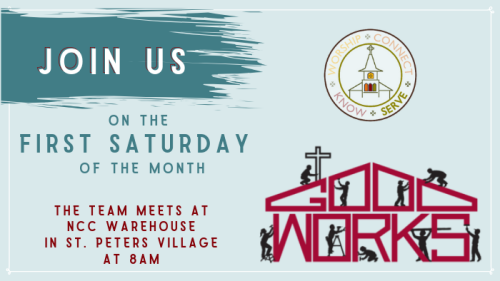 It has been a time for celebration with Good Works as we completed and dedicated TWO homes last month. In both situations much of the work had been done by summer work camp crews and we just finished a few things for two very grateful homeowners! Truly a very blessed time to see the culmination of lots of hard work and folks in need helped through the love of Jesus. Now, this work day November 3rd, we begin work with a new homeowner, Jeff Wise. Read More
Food Pantry // Holiday Collection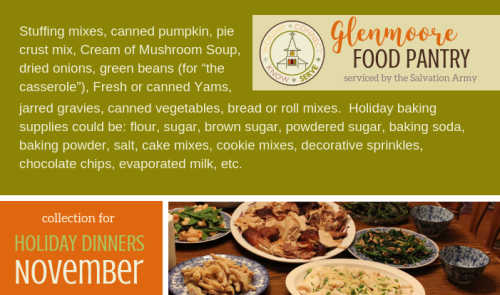 We continue to support the Glenmoore Food Pantry which is serviced by the Salvation Army. It's time to start thinking about about Thanksgiving and Christmas needs. Read more...
Sign Ups are Ready
There are always many opportunities to serve with your fellow Fairview family and friends. To learn more and/or sign up simply click on the opportunity(ies) that interests you below!!