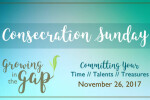 Come Worship With Us!
Sunday, November 24, 2017
WORSHIP 10:30 A.M.
SERMON TEXT: I Samuel 3:11-21
SERMON TITLE: Going Against the Flow // Rev. Paul Toms
---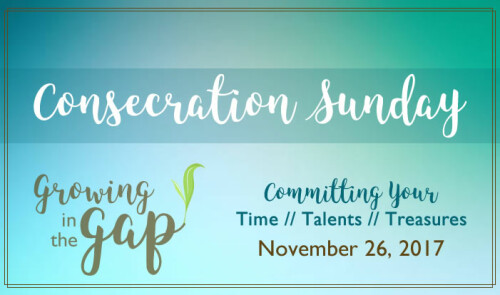 We are called to be stewards of God's abundant blessing; this Sunday we consecrate our offerings to the Lord. Please bring your green commitment card to worship. Everyone will complete a time and talent form which will be brought forward along with your commitment card during worship.
During this time of transition it is important for each member to help us Grow in the Gap. If we all commit to increase our time, talent and treasure Fairview EPC will be able to continue its service to the community and beyond.
---
Advent Season at Fairview
Mark your calendars. Some events and times are new this year!!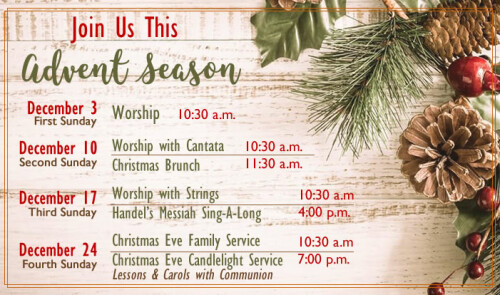 ---
Opportunities to Connect
Cantata Celebration Brunch
Thanks to our Deacons, planning for this Fellowship event is under way! It's a wonderful time to celebrate the blessings of the Cantata as well as the Advent season with your Fairview Family! Mark your calendar and make your reservation. Sign ups are available both on line and at the front desk.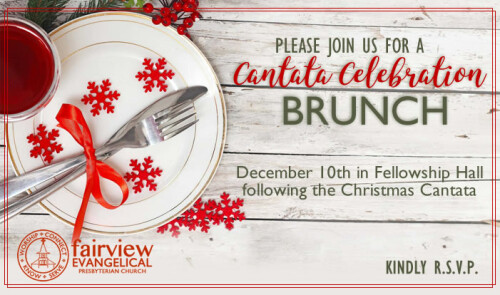 ---
Fairview is Hosting a Wonderful Community Event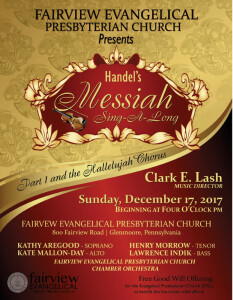 We need to spread the word, so share with others. Postcards and flyers are available for distribution to friends, families, local businesses etc.
Read More about it on our website... Share it with Friends on FaceBook... Pick up postcards and flyers to hand out!
---
Opportunities to Know
Stewardship Devotional
Begin with focus and openness to see what God has for you.
Pray: God, connect with me here, as I seek you in your Word.
Read: the selected section of Scripture slowly. Take note of intriguing words and phrases and read them a second time.
"This service that you perform is not only supplying the needs of the Lord's people but is also overflowing in many expressions of thanks to God." 2 Cor 9:12
Reflect: on what strikes you as you read. Think through what God is communicating to you at this point in your life.
Respond: to the passage. Speak to God directly about what's on your mind and heart. Look for ways to live out what you've uncovered.
---
Many Small Groups Group Opportunities Throughout the Week
Sunday Morning Small Group Studies for All Ages
Sunday morning studies for children, youth, and adults are going very well. But there's always room for Y-O-U! Sunday Small groups start at 9:15 a.m.
Advent Small Group Study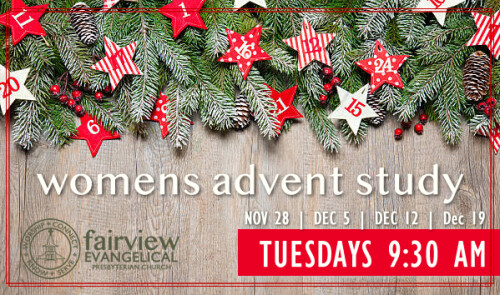 The Tuesday morning women's group will begin an Advent Study on November 28th with 3 sessions of "The Incarnation in the Gospels". On December 5th we will have an activity and fellowship with Carol Covert. Any questions or if you would like to join us, email Bernie Hughes or call her at 610-715-8201 We will resume our regular study on Tuesday January 2, 2018.
Several Small Groups Meet During the week
Check out the website for a complete listing of All Small Group Opportunities.
---
Weekly Memory Work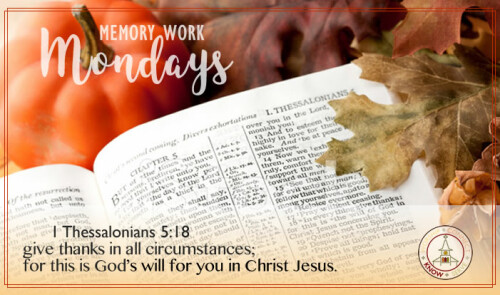 ---
Opportunities to Serve
CANNED FOOD Challenge Extended
Thanks to everyone who rose to last week's challenge. If you heard about the challenge too late, or it slipped your mind to bring in a donation, we will continue our collection weekly. Let's make sure the food bank shelves are full for Christmas.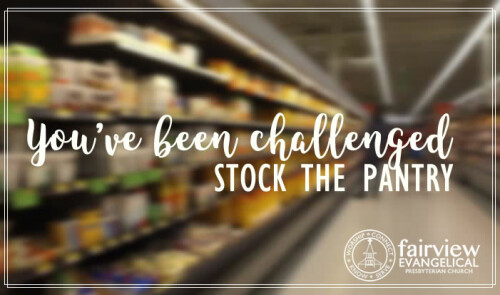 This Week is Deacon's Sunday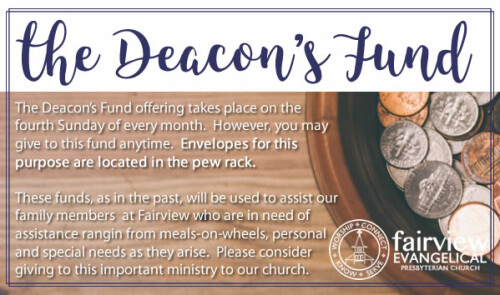 Still Looking for Helping Hands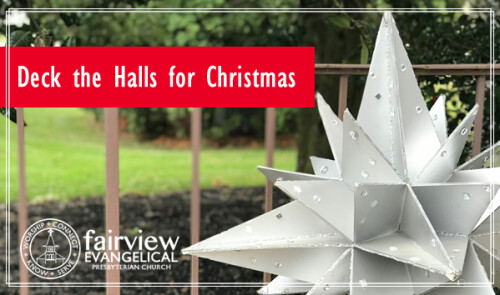 We are in need of volunteers to help decorate Fairview for Christmas on Tuesday, November 28th beginning at 8:30 a.m. Please consider coming out and helping that morning. We need to do the tree, the garlands the candles in the sanctuary windows and we need a few hands in the kitchen to clean up and prepare the "Silent Night" plastic candle holders for Christmas Eve Worship. Many hands make light work. Please email the church office at or contact Linda Gyrath at 610-458-8337. Many hands make light work!
Serve Refreshments December 17th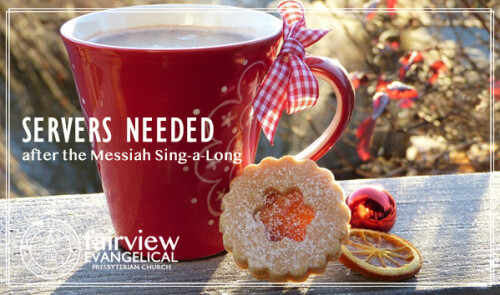 Light refreshments will be served in the foyer following the Messiah Sing-A-Long event, December 17th. We are looking for a few volunteers to help with this time of fellowship. Please email the church office or contact Linda Gyrath at 610-458-8337.
Christmas Tree Angels
Coming Next Week! Next Sunday on the Welcome Desk in the foyer there will be a "Charlie Brown" Christmas Tree with needs listed on Snowman tags. These individuals receiving your generous gifts are identified by the Salvation Army food bank in Glenmoore. This is part of our ongoing support and partnership with them. We have received 28 names to support this year. When taking a Snowman, please write your name on the corresponding number found on the clipboard.
Gifts are due by Sunday, December 10th. This quick turnaround is to ensure delivery of the gifts to the individuals we are supporting. Please bring your UNWRAPPED item(s) and the original snowman tag attached to the package. You may place them under the larger church Christmas tree for pick up.
Thank you for helping us support our local community members in need and thank you for your generosity, year after year. Should you have any questions, please see Valerie Fieo.
Good Works Work Day
Thank you to the Tuesday Morning Women's Small Group for providing lunch again this month! Our next work day will be December 2nd. For questions and/or further details contact: Roy Adler 610-416-5996 or Hob Pusey 610-506-8170.