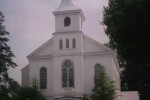 As you know, Fairview Evangelical Presbyterian Church has just hired Cheryl Faust as our director of Small Group ministries. We are delighted to have Cheryl on the leadership team at Fairview. Hiring Cheryl has been the culmination of a two-year process of following God's lead in the life of our community of faith. I want to use this pastor's column as a chance to fill you in with "the rest of the story" leading to bringing Cheryl on board.
The search for a small group coordinator came at the recommendation of the Vision Team. How did the Vision Team become part of the story? The Vision Team was created at the recommendation of Ken Priddy, who spent a weekend with us in April 2015. Ken came to help us as a church to renew our vision as a church. There was clear agreement at the end of the weekend that we needed to form a Vision Team, as Ken recommended.
As we explore how God leads we ask next: How is it that we invited Ken Priddy to come and meet with us that weekend? Well, thanks to Elder Jo-Ellen Claphanson, the Session had watched several of Ken's online U-Tube videos. After listening to Ken's teaching, the Session became convinced that his leadership and teaching could help Fairview reverse the recline and decline that we have experienced as a church over the past several years.
Next questions to ask: How did Jo-Ellen know to seek out and watch Ken's U-Tube videos? Well, it happens that the September 2014 meeting of the Presbytery of the East was held at 4th Presbyterian, Bethesda, MD and Ken Priddy was leading a pre-presbytery educational event and I was present to hear him. However, I was not intentionally present to hear Ken. Some weeks earlier, after thinking about attending the meeting at 4th Presbyterian, I called my good friend Rusty Ingraham. Rusty lives in Alexandria, with his wife, Ann, and son Michael. Basically I invited myself over to their place for Thursday evening so as to have a shorter drive that morning to the Presbytery meeting. J Friday comes around and Michael is off to school, Ann and Rusty are off to their responsibilities, and I am off to the presbytery meeting, in time for a pre-presbytery event I had not really thought about attending.
Ah…. But God had thought about it. As I listened to Ken, I realized that his insights were probably what Fairview Evangelical Presbyterian Church needed at this time. At our next Session meeting I passed out material from his seminar. That led Jo-Ellen to look up his U-Tube videos. That led the Session to invite Ken to be with us in April. That in turn led the forming of the Vision Team and the articulation of our process of discipleship. In four words that process is: Worship à Connect à Know à Serve. Worship God, connect with one another through small groups, grow in the knowledge of the faith and serve others in the name of Christ: this is our discipleship process.
And God knew, from the very beginning, this would all lead to our hiring Cheryl Faust as Fairview's Small Group Coordinator.
Now you know the rest of the story. See you in church on Sunday.