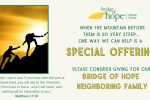 Love Offering for Bridge of hope
No home of their own, not employed, two young boys, the mountain seems so high for our Mom. Any extra you can share to help them on their journey is greatly appreciated. To name a few of their expenses: housing security deposit, first month's rent, gas for car, car insurance, day care, diapers and wipes. *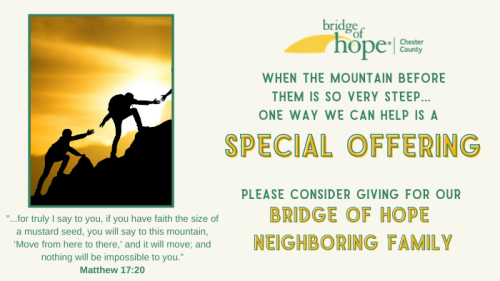 When giving to this special offering, please put a note in the memo section of your check stating "BOH Neighboring" and place in the designated offering plate.
We thank all of you and please continue your prayers for this family and Fairview's Neighboring Team.
(*Funds will be distributed directly from Fairview to the payor---landlord, day care facility, etc.)
---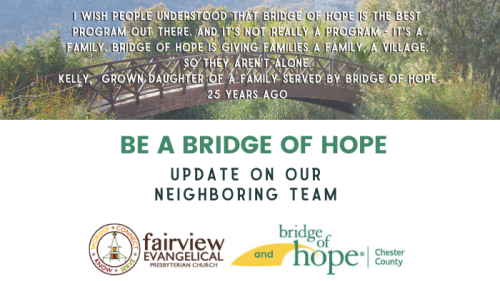 In the last two weeks we completed various paperwork, our formal in person training, and virtual training is ongoing for becoming a Neighboring volunteer. The training provided is packed full of the various experiences Bridge of Hope has had in the last 30-plus years serving families facing homelessness.
So our journey has begun—we will share what we can, as we can, on the family in which we will become Neighbors. We are limited on sharing, because of confidentiality guidelines, but there will be plenty we will still be able to share.
"Suppose a brother or sister is without clothes and daily food. If one of you says to him, "Go, I wish you well; keep warm and well fed," but does nothing about his physical needs, what good is it?" JAMES 2:15-16
It's never too late to join the Bridge of Hope Neighboring Team---If you would like to join the Neighboring Team please reach out to Brenda Stauffer at (484) 678-0436 or