Come Worship with Us!
Sunday, October 4, 2020 // 10:30am
SERMON TEXT: 1 Thessalonians 5:12-22
SERMON TITLE: "Practicing Love" // Tim Latham
This week's service will be available via Live Stream on our Facebook page starting at 10:30 a.m. If you will be joining us remotely, you can follow along with the bulletin, found on our website page for this week's sermon.
A recording of the Live Stream will be uploaded to the sermon page sometime after the service concludes, thus allowing on-demand viewing.
---
This weekend

We will have a seating assignment for everyone in attendance according to their needs (i.e. those who want to social distance). We are assigning seats so that we can safely use every available seat. The ushers will be there to assist with seating everyone.
---
Bridge of Hope Neighboring Group Update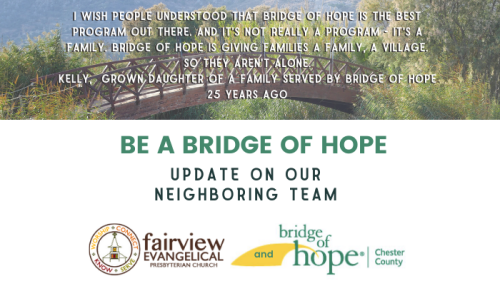 Fairview's Bridge of Hope
Neighboring Volunteers
Our Neighboring Volunteers walk alongside their Bridge of Hope Family to fill in the gaps, and help the Family get back on their feet. Part of what the Neighboring program offers to our Neighboring Volunteers is opportunities to:
 Open your Heart: Give support, encouragement and build a relationship.
Open your Hands: Offer tangible, practical, support, such as help looking for housing and childcare, help with transportation, household furnishings, meals, etc.
If you have any interest in helping out with Fairview's Bridge of Hope Volunteers please reach out to Brenda Stauffer at 484-678-0436.
---
Support the Food Pantry