Come Worship with Us!
Sunday, October 18, 2020 // 10:30 am
SERMON TEXT: Ruth 1:14-22
SERMON TITLE: "The Determination of Ruth" // Rev. Tim Latham
This week's service will be available via Live Stream on our Facebook page starting at 10:30 a.m. If you will be joining us remotely, you can follow along with the bulletin, found on our website page for this week's sermon.
A recording of the Live Stream will be uploaded to the sermon page sometime after the service concludes, thus allowing on-demand viewing.
---
New Sermon Series
The Book of Ruth | From Ruin to Redemption
Last Sunday, Tim showed us a video from The Bible Project that introduced the Book of Ruth; some of you have asked for this link to watch it again or share with others. This should serve as a great overview for the book allowing us to continue delving deep into this rich text every Sunday!
---
TRUNK OR TREAT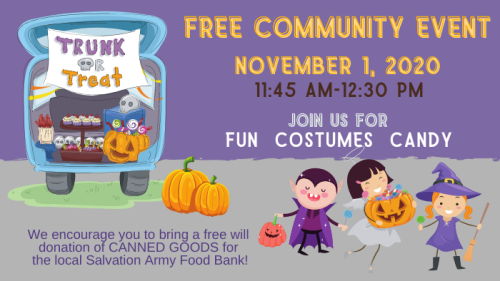 Bring your smiles, fun, costumes and wrapped nut-free candy! Decorated Trunks are needed to make this a successful fellowship event for our children's ministry. Should it rain, we will have tables socially-distanced and set up in Fellowship Hall.
Look forward to seeing you all there. Invite a neighbor, a classmate or a family!
Should you have any questions, please contact Nancy Slater, as she will be coordinating this year.
---
Fairview's Bridge of Hope Neighboring Volunteers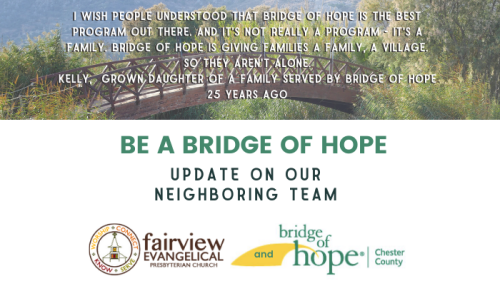 Our Neighboring Volunteers walk alongside their Bridge of Hope Family to fill in the gaps, and help the Family get back on their feet. Part of what the Neighboring program offers to our Neighboring Volunteers is opportunities to:
Open Doors: Use your personal and professional networks to help a family find housing, medical providers, employment, job training or other resources to support a family's long-term success.
Open Your Eyes: As a faith community, your eyes will be opened – to the pain, trauma and resiliency of families facing homelessness, the brokenness in all of us, the significance of mutual relationships with others, and the importance of Neighboring as followers of Jesus. It's all about making a true difference in the lives of others.
If you have any interest in helping out with Fairview's Bridge of Hope Volunteers please reach out to Brenda Stauffer at 484-678-0436.
---
Support the Food Pantry