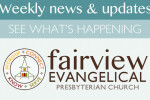 Come Worship With Us!
Sunday, November 5, 2017
All Saint's Sunday
22nd Sunday After Pentecost
WORSHIP 10:30 A.M.
SERMON TEXT: Amos 7:7-15
SERMON TITLE: Standing up for godly living // Rev. Dr. Dennis Lesher
---
The 2018 Stewardship Campaign is Under Way!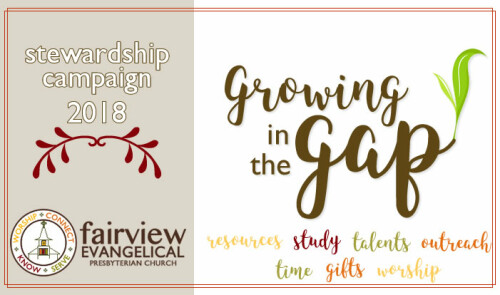 ---
Opportunities to Connect
Trunk or Treat a Success!
Thank you to the many hands that made trunk or treat a wonderful event this year. The spooktacular fun helped to brighten everyone's rainy day!
---
Praise God!
It was wonderful to have Patrick Finch in Worship last week! Not only did we witness God's answered prayers in Patrick's healing, but we also had the opportunity to dedicate the picnic tables that Patrick gifted to our church through the completion of his Eagle Scout project!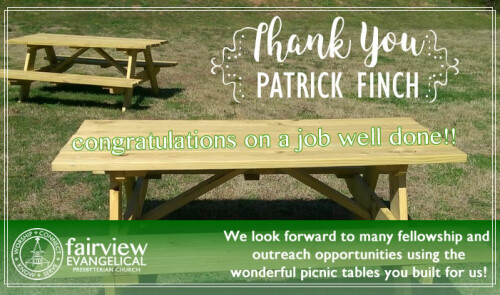 ---
Did you notice the music last Sunday?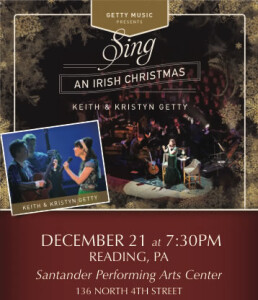 This past Sunday, the choir anthem, as well as our offertory music, was from the Keith and Kristyn Getty, modern day hymn writers. This year, Conestoga Christian School is hosting the Getty's at the Santander Performing Arts Center on December 21st. It will be a great evening of Christian/Christmas hymn singing. Learn More
---
Opportunities to Know
Stewardship Devotional
Begin with focus and openness to see what God has for you.
Pray: God, connect with me here, as I seek you in your Word.
Read: the selected section of Scripture slowly. Take note of intriguing words and phrases and read them a second time.
"Give, and it will be given to you. Good measure, pressed down, shaken together, running over, will be put into your lap. For with the measure you use it will be measured back to you." Luke, 6:38.
Reflect: on what strikes you as you read. Think through what God is communicating to you at this point in your life.
Respond: to the passage. Speak to God directly about what's on your mind and heart. Look for ways to live out what you've uncovered.
---
Sunday Morning Small Groups
Small Group Studies for All Ages
Sunday morning studies for children, youth, and adults begin at 9:15 a.m.
New Adult Class - Cash Values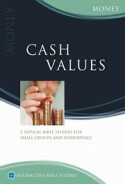 A new class is starting Sunday November 5th. As Christians, do you find it hard to talk openly about money? Money is a tricky topic for Christians and interestingly we rarely sit down to carefully work out what the Bible has to tell us about it. With this series - Cash Values, you'll find it is designed to get us to do just that. In these five lessons you will learn how this subject, Cash Values, is significant to our relationship with God and our fellowship with other Christians.
If topics like "God and Money," "Paying the Bills," and "Partners in Generosity" have a certain level of interest and appeal for you, then please join this class which will start on Sunday, November 5 in Fellowship Hall at 9:15 am. Teachers/facilitators for this series are Jim Fox, Dan Obenschain, Philip Harvey and Dennis Lesher.
---
Opportunities to Serve
"But be doers of the word, and not hearers only". James 1:22
Mission Committee Volunteers Needed
Fairview is looking for 2 or 3 people to join Elder Dan Obenschain in forming our Missions Committee. If you are interested, please contact Dan at 484-949-5851.
---
Good Works Work Day
Thank you to the Tuesday Morning Women's Small Group for providing lunch this month! Our next work day will be December 2nd. For questions and/or further details contact: Roy Adler 610-416-5996 or Hob Pusey 610-506-8170.
---
Bagel Sunday
Many Thanks for our volunteers through the end of 2017.
The calendar for the beginning of 2018 is now available. Get ahead on your planning and pick a date that works best for you.