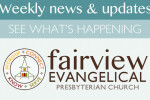 Worship "With" Us!
Sunday, March 22, 2020
SERMON TEXT: John 14:1-14
SERMON TITLE: "I am the Way the Truth and the Life" // Tim Latham
This sermon will be available on our website Sunday morning, so we can all worship from a distance together!
---
Connecting even while Social Distancing
The Fairview family is here to uplift, encourage and support one another. Even as we worship from a distance, it is important to connect. Your Deacons and Elders are always available, please do not hesitate to reach out.
We know that during this season where so many schools and companies are closed or moving to alternative schedules, some of us may be financially burdened. For those who are struggling, we do have a benevolence fund administered by the deacons to meet the financial needs of our community. If you're struggling, please reach out to your deacon or contact Carol Covert for more information.
---
Giving // an act of worship
Many of our members give in person during the Sunday offerings. If you are still able to contribute during this period of Worshipping from a Distance, please consider an alternative method for your weekly offering:
mail in your offerings
set up an automatic e-check with your financial institute
make your contribution securely online
so we're able to maintain our financial commitments until we're able to meet again in person.

---
UPDATE // Called Congregational Meeting
The Congregational Meeting on March 22, 2020 will be held in the church parking lot at 12pm. FULL DETAILS HERE
On Friday, March 20th, you should have received both a voicemail and an email with a complete update. If you did not receive both the voicemail and the email, please let know, so we can be sure to update our distribution lists. Now more than ever, we want to be sure that our communication outlets are accurate and effective.
---
Weekly Memory Work