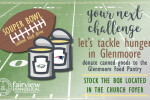 Come Worship With Us!
Sunday, January 28, 2018
SERMON TEXT: II Kings 3:4-20
SERMON TITLE: "Dig Those Ditches" / Rev. Paul Toms
Please Plan to Attend the Congregational Meeting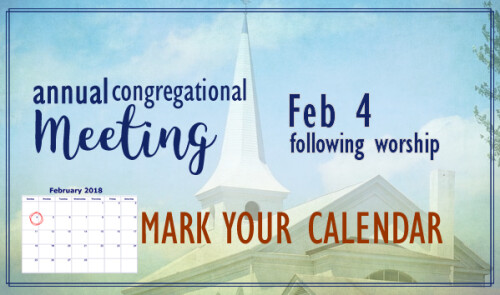 ---
Opportunities to Connect
Fairview Far Away ❤️ Box
If you haven't done so yet, please take some time to drop a note of encouragement in our college student's valentine bags, located in the foyer. If you have a college age son or daughter, please send their shipping information to Nancy Finch-Slater* ASAP. We want to ensure they receive their goodies. Thank you to the many volunteers for your offer to donate cookies!!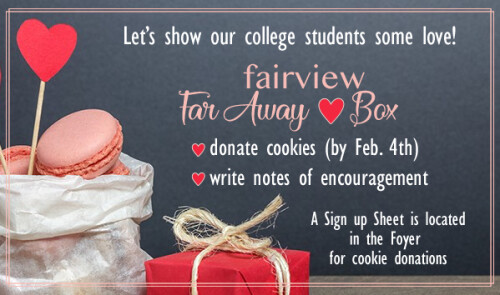 *Please note a correction for Nancy's email. The correct email is
---
This Sunday...

Thank you Bernie Hughes for hosting this fellowship event!! If you'd like to sign up for a future Sunday, click here
---
Opportunities to Know
Weekly Memory Work
Memory verses are posted each week on our FaceBook, page. Be sure to follow Fairview to get a "head start".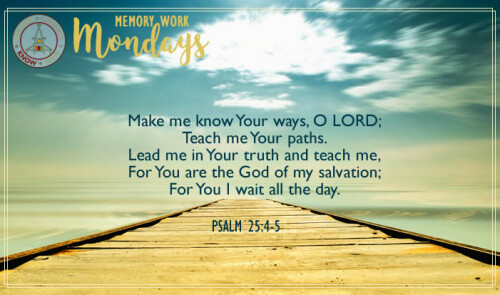 A Snippet of Reformed Doctrine

The Larger Catechism, along with the Shorter Catechism, is a summary or exposition of Reformed doctrine as contained in the Westminster Confession of Faith, and are part of the Constitution and confessional standard of the EPC.
Q. 178. What is prayer?
A. Prayer is offering our desires to God1 in the name of Christ2 with the help of his Spirit,3 confessing our sins4 and thankfully recognizing his mercies.5
1. Ps 62.8.
2. Jn 16.23-24.
3. Rom 8.26.
4. Ps 32.5-6, Dn 9.4.
5. Phil 4.6.
---
Opportunities to Serve
Another Challenge // Stock the Box
SUPER BOWL SUNDAY is just over a week away! Let's put the SOUP in super!!! Your next challenge is to stock the box for the Glenmoore Pantry with lots of SOUP (or any and all non-perishables)! Are you up for the challenge??? Donations can be dropped in the box located in the church foyer.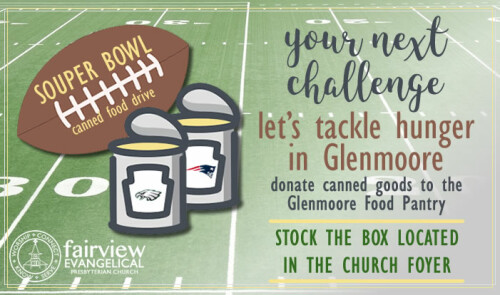 ---
Flower Ministry Returns to Fairview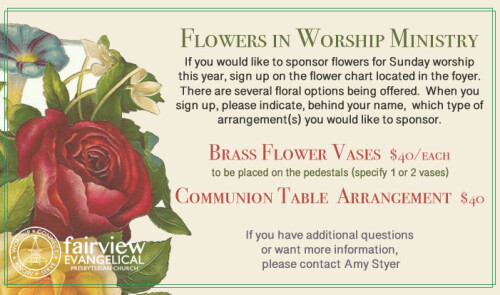 Sign ups are available in the foyer... please specify if you want one or two vases or the communion table arrangement after your name. If you have any additional questions or want more information, please email Amy Styer or call her at 484-332-7193.
---
This Week is Deacon's Sunday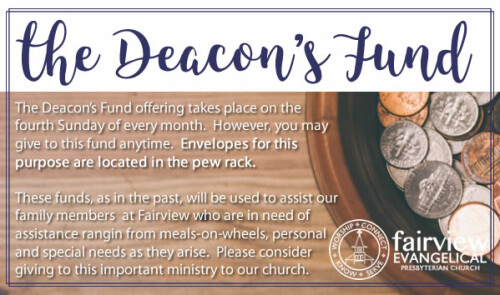 ---
Good Works Work Day
Our next work day will be February 3rd. In addition to helping on the work team, we are always in need of lunch providers. Simple lunches are fine. The lunch not only nourishes our workers but is part of our ministry and fellowship with the homeowners, sometimes even neighbors, and extras are left with the homeowner. It is a great outreach opportunity and lunch providers are invited to stay to eat with us and share in the fellowship. If interested contact Sue Obenschain at 610-286-5013.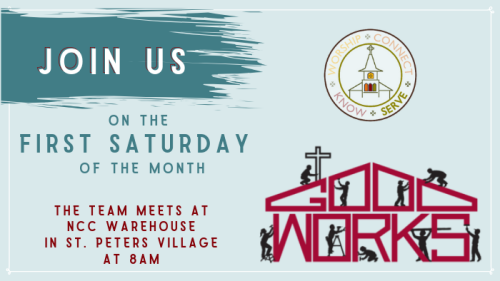 Click on the image for more details. For questions and/or further details contact: Roy Adler 610-416-5996 or Hob Pusey 610-506-8170.