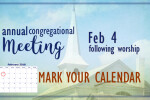 Come Worship With Us!
Sunday, February 4, 2018
Fifth Sunday after the Epiphany
SERMON TEXT: I Corinthians 12:12-31
SERMON TITLE: "The Body of Christ" / Rev. Dr. Dennis Lesher
Congregational Meeting This Sunday
Printed copies of the Annual Reports for 2017 are available in the church foyer. You can read an electronic version here.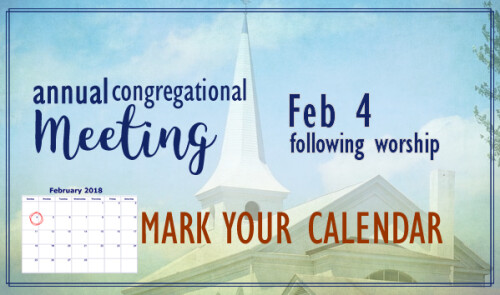 ---
Opportunities to Connect
Cantata Practice has Begun
Calling all singers... Psalms 100:1 says "Make a joyful noise to the Lord, all the earth!" See Clark Lash if you would like to participate in our Easter Cantata. Practices are held prior to Choir Practice. Hope to see you next week.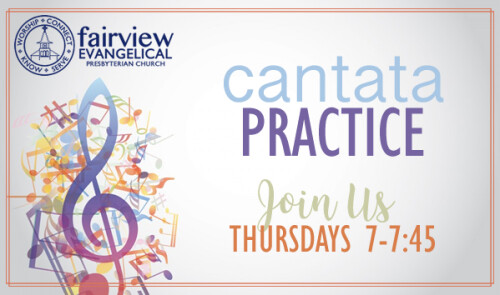 Fairview Far Away ❤️ Box
Don't forget, cookie donations are due this Sunday (February 4th). Also, Sunday is your last chance to drop a note of encouragement in our college student's valentine bags, located in the foyer. Thank you to the many volunteers for your offer to donate cookies!!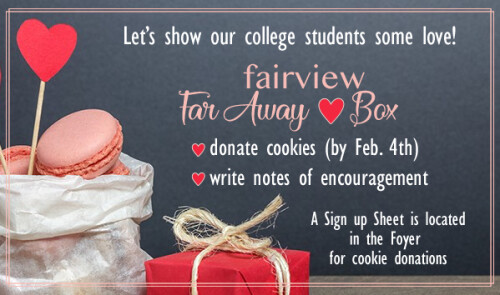 ---
Opportunities to Know
Fairview Information On Demand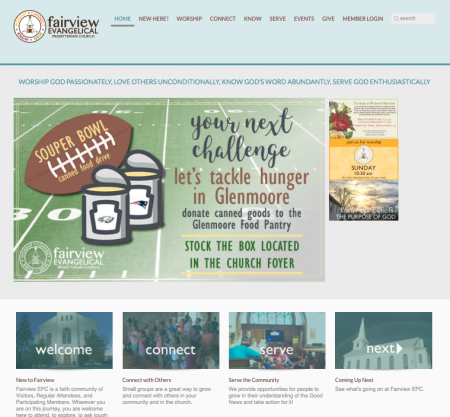 We have been working diligently to make our website a valuable resource to both our congregation and those seeking more information about Fairview. Did you know you can find SERMONS from weeks past and weekly NEWS & UPDATES. Have suggestions? Let us know what else you'd like access to.
Weekly Memory Work
Memory verses are posted each week on our FaceBook, page. Be sure to follow Fairview to get a "head start".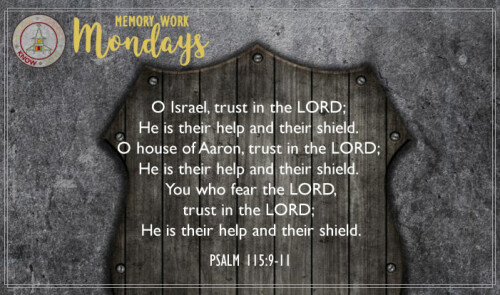 A Snippet of Reformed Doctrine
Q. 180. What is the significance of praying in Christ's name?
A. When we pray in Christ's name, we obey his command and confidently rely on his promises as a basis for requesting mercy for his sake.1 This involves not just mentioning his name2 but drawing our encouragement to pray and our boldness, strength, and hope that our prayers will be answered from Christ himself and his mediation.3
1. Jn 14.13-14, 16.24, Dn 9.17.
2. Mt 7.21, Lk 6.46.
3. Heb 4.14-16, 1 Jn 5.13-15
---
Opportunities to Serve
Bring in those Canned Goods!!!
This week is SUPER BOWL SUNDAY ! Let's put the SOUP in super!!! Your next challenge is to stock the box for the Glenmoore Pantry with lots of SOUP (or any and all non-perishables)! Are you up for the challenge??? Donations can be dropped in the box located in the church foyer.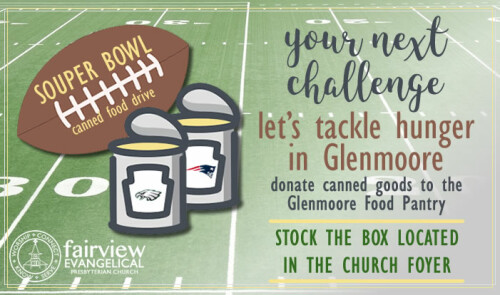 Flower Ministry Returns to Fairview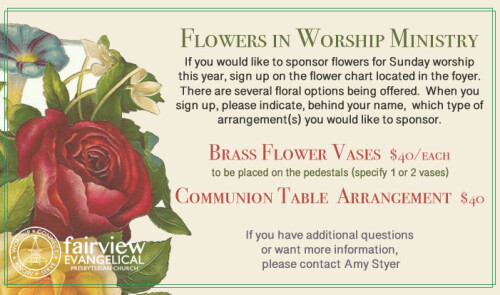 Sign ups are available in the foyer... please specify if you want one or two vases or the communion table arrangement after your name. If you have any additional questions or want more information, please email Amy Styer or call her at 484-332-7193.
---
Good Works Work Day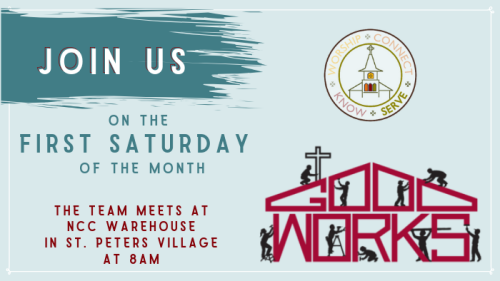 February 3rd is work day. Click on the image for more details. For questions and/or further details contact: Roy Adler 610-416-5996 or Hob Pusey 610-506-8170.