Join Us for In-Person Worship!
August 29, 2021 at 10:30 a.m.
SERMON TEXT: Proverbs 3:5-6; Romans 15:13; John 7:37-39; Philippians 4:4-7
SERMON TITLE: "Rivers of Joy & Peace" / Rev. James Caldwell
This service will be available via Live Stream on our Facebook page starting at 10:30 a.m.. If you will be worshiping with us live, you can follow along with this week's bulletin.
WHAT HAPPENS AFTER THE LIVE STREAM?
A recording of the sermon and access to the bulletin will be posted on the Fairview website. The most recent sermon is always available toward the bottom of the homepage. Previous sermons are always available in our Sermon Library.
COMMON QUESTIONS:
"What if I don't have a Facebook account?" You don't need one to access the streamed worship services linked above.
"What about last week's sermon?" All sermons are made available on our website. The most recent sermon is always available toward the bottom of the homepage. Previous sermons are always available in our Sermon Library.
"Can I see previous worship services? The whole service… not just the sermon?" Yes…all previous Worship Services that were streamed live, can be found on Fairview's FaceBook live videos page.
sermon series - proverbs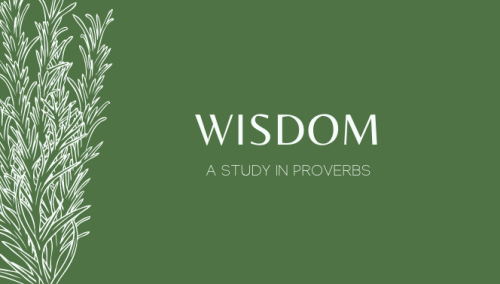 Click on the above image to learn more.
We like to assume that when we come to Church or when we come to God's Word, we are seeking transformation, redemption, and reconciliation – but that's not always the case. Often, we come looking for comfort, for peace, for hope and sometimes, we come looking for some simple guidance toward living a better life. We know that our Faith should be bigger than morality or behavioral improvement – but that doesn't mean that those things don't matter.
Into this tension, steps the book of Proverbs, which gives us advice for living a Godly life, a life that chooses the path of wisdom instead of folly. This summer we will see that God has practical advice for us not just in improving the specific areas addressed but also offers a comprehensive approach to living well and standing on God's Wisdom in every aspect of our lives. Proverbs can be a tricky book to read as it breaks into different sections and uses multiple rhetorical devices; so, as we begin our study this week, please watch the Bible Project's overview to help give you a better understanding of the structure and major themes we'll be exploring.
---

---

---

---
glenmoore food pantry! We Need You!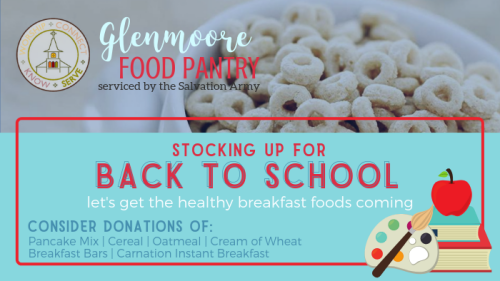 Please feel free to drop your donations by the church during office hours Tuesday thru Friday. You may leave them at the side door or put them in the box in the foyer. Thank you for your contributions.
---
fairview men's discipleship group
Men of all ages are warmly invited to attend Fairview's Men's Discipleship Group. Formed almost three years ago, FMDG meets at the church on the first and third Tuesday of each month from 7:30 pm to 9 pm. We are studying the Letter of Paul to the Romans. Whether you are a new, or renewed believer, or have been walking with Christ for decades, the study of Romans is a great way to grow in your knowledge and understanding of how God gives salvation to everyone who believes.
Please come and experience genuine Christian fellowship and spirited, insightful discussion as we continue our individual walks of faith on the path to discipleship in Christ our Lord and Savior.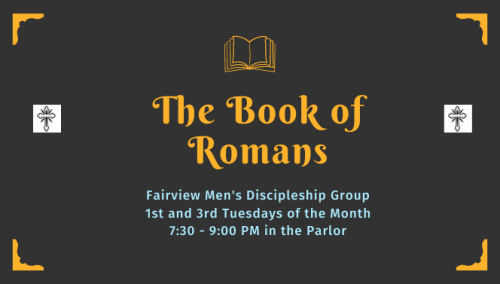 ---
ryan seawell - go fund me
Ryan Seawell, Son of Fairview's former Music Director, Al Seawell & his wife, Carol, suffered a brain injury on July 23rd.
He is in Penn Presbyterian Hospital in Philadelphia for treatment.
The following link provides updates on his condition.
https://www.caringbridge.org/visit/ryanseawell
A Go Fund Me account has been set up to help with
medical costs for anyone wishing to donate.
https://gofund.me/b7f97f94
---
Fairview's Bridge of Hope Neighboring Volunteers

Churches Respond.
Homelessness Ends.
Hope Begins.
If you have interest in helping with Fairview's Bridge of Hope Volunteers, please reach out to Brenda Stauffer at 484-678-0436.
---
Good Works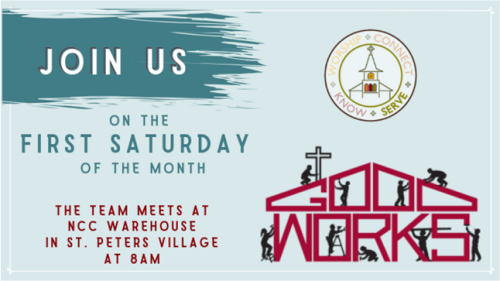 Come help us Repair Homes and Restore Hope on the First Saturday each Month. We started work on a new home in October. Our NEXT Workday is September 11th.
Plan to Join Us! All you need is a willing heart; we provide everything else!