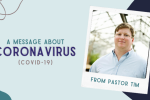 Dear friends,
As we all follow the development of Coronavirus (COVID-19), I wanted to let you know of a few steps we're taking to ensure our church family stays safe and healthy.
As we gather on Sunday, please do what you can to refrain from personal contact, and perhaps replace our usual handshakes and hugs with smiles and waves! For the foreseeable future, we will also refrain from passing the friendship pad and offering plate. Offering plates will be stationed as you enter the sanctuary, so please feel free to drop in any contributions. And please also remember that we have a secure online giving platform as well, if you wish to set up contributions online. Finally, if you or someone in your household isn't feeling well, or if you have underlying health concerns that put you at greater risk, please don't hesitate to stay home. We are working on a home worship guide to complement the sermon audio which will be available online on Tuesday.
These steps are intended not only to help keep you safe but also to prevent the spreading of this disease to others and to lessen the strain on hospitals and healthcare providers. These steps are not taken out of fear, as Christians we are called to take our fears and anxieties to the Lord, but we also must "look not only to our own interests but also to the interests of others." (Philippians 2:4) Our most important task as Christians is to continue to pray for those whom have been impacted, and the medical professionals who serve them. May we continue to pray and put our trust in the Lord, Most importantly, as Christians, may we continue to pray for those who have been impacted and the medical teams who serve them, and have trust in the Lord, "our refuge and strength, an ever-present help in trouble" (Psalm 46:1).
- Pastor Tim