Every Thursday, from 06/11/2020 to 08/13/2020, 7:00 PM - 8:30 PM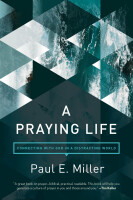 The Fairview Prayer Study Group will begin on Thursday, June 11th at 7:00pm in the church parlor. The book we will be using is: A Praying Life by Paul E. Miller. Pastor Tim recommended this book. Please join us as we strengthen our relationship with Holy God.
If you have any questions, please or call Jo-Ellen Claphanson.