Every Sunday, from 03/18/2018 to 05/20/2018, 9:15 AM - 10:15 AM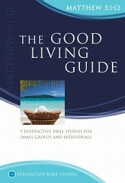 The Good Living Guide unlocks the treasures of the Beatitudes by going back to the Old Testament. After all, the Old Testament was Jesus' Bible, and all of the Beatitudes are either direct quote from it or strongly reflects its teaching.
This 9 week interactive study will help the participants in two ways; (1) teach you how to understand the New Testament by learning the message from the Old; and (2) discover both the painful but tremendously exhilarating experience of being challenged by the words of Jesus.