Every Sunday, from 11/05/2017 to 12/03/2017, 9:15 AM - 10:15 AM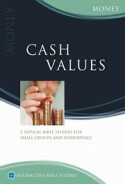 As Christians, do you find it hard to talk openly about money? Money is a tricky topic for Christians and interestingly we rarely sit down to carefully work out what the Bible has to tell us about it. With this series - Cash Values, you'll find it is designed to get us to do just that. In these five lessons you will learn how this subject, Cash Values, is significant to our relationship with God and our fellowship with other Christians.
If topics like "God and Money," "Paying the Bills," and "Partners in Generosity" have a certain level of interest and appeal for you, then please join this class in Fellowship Hall at 9:15 am. Teachers/facilitators for this series are Jim Fox, Dan Obenschain, Philip Harvey and Dennis Lesher.