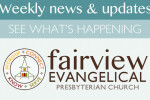 Come Worship With Us!
Sunday, November 19, 2017
WORSHIP 10:30 A.M.
SERMON TEXT: 2 Chronicles 20:14-30
SERMON TITLE: The Loving Kindness of God // Rev. Richard Brondyke
---
Stewardship Update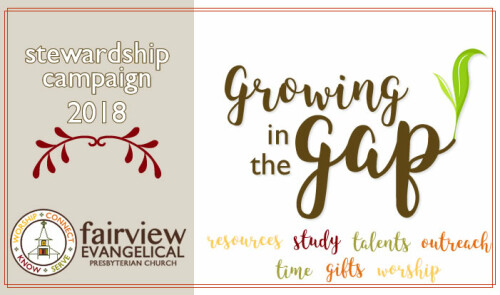 Our giving is to God (Rom. 12:1, Phil. 4:17)
Giving is the obedient act of returning to God from what He has provided. Your giving should be directed to God and His work, not to an organization. Therefore, giving is a spiritual decision.
Our stewardship campaign has officially launched and will conclude with Consecration Sunday, November 26, 2017. You are encouraged to prayerfully seek God's desire not only for your financial commitment to Fairview, but also for the stewardship of your gifts and talents. Yes, Fairview is in a transition, as we patiently and obediently seek God's plan for a new pastor. But it is NOT just Fairview that is in waiting. Ask yourself, what spiritual transition are you undergoing? How does God desire you grow through this transition? What gifts and talents has he entrusted to you? How will you use them to glorify God over this next year?
---
Advent Season at Fairview
Mark your calendars. Some events and times are new this year!!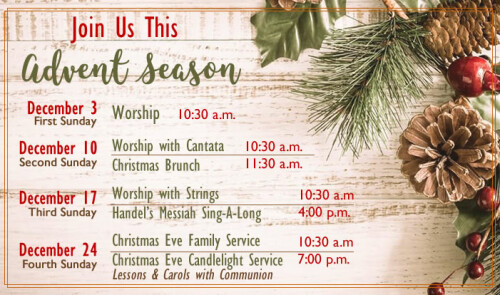 ---
Opportunities to Connect
Cantata Celebration Brunch
Thanks to our Deacons, planning for this Fellowship event is under way! It's a wonderful time to celebrate the blessings of the Cantata as well as the Advent season with your Fairview Family! Mark your calendar and make your reservation. Sign ups are available both on line and at the front desk.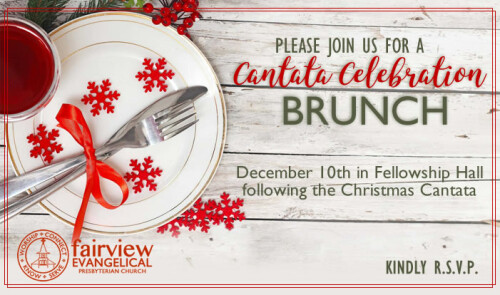 ---
How Can You Help with Fairview's Outreach in a "Non-Traditional" Way?
Believe it or not, it can happen through FaceBook! In addition to our traditional methods, we are increasing our focus on sharing Scripture, Sermons, News and Events through our FaceBook Page. Your activity on our page (reacting to and sharing such content) extends our reach beyond the walls of our building.
Go on over... Like the Page, Engage with the posts!
---
Fairview is Hosting a Wonderful Community Event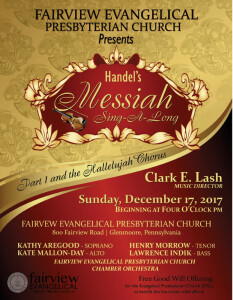 We need to spread the word! There will be many ways to share with others. In the coming weeks, postcards and flyers will be available for distribution to friends, families, local businesses etc.
Read More about it on our website... Share it with Friends on FaceBook... Keep your eyes out for postcards and flyers to hand out!
---
Opportunities to Know
Stewardship Devotional
Begin with focus and openness to see what God has for you.
Pray: God, connect with me here, as I seek you in your Word.
Read: the selected section of Scripture slowly. Take note of intriguing words and phrases and read them a second time.
"As each one has received a special gift, employ it in serving one another as good stewards of the manifold grace of God. Whoever speaks, is to do so as one who is speaking the utterances of God; whoever serves is to do so as one who is serving by the strength which God supplies; so that in all things God may be glorified through Jesus Christ, to whom belongs the glory and dominion forever and ever" 1Peter 4:10-11
Reflect: on what strikes you as you read. Think through what God is communicating to you at this point in your life.
Respond: to the passage. Speak to God directly about what's on your mind and heart. Look for ways to live out what you've uncovered.
---
Many Small Groups Group Opportunities Throughout the Week
Sunday Morning Small Group Studies for All Ages
Sunday morning studies for children, youth, and adults begin at 9:15 a.m.
Advent Small Group Study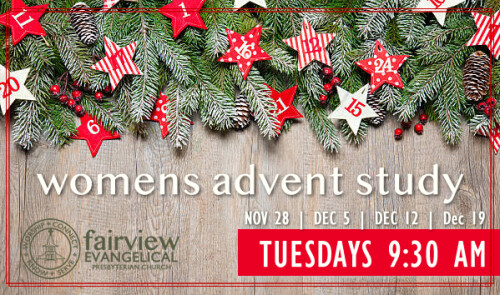 The Tuesday morning women's group will begin an Advent Study on November 28th with 3 sessions of "The Incarnation in the Gospels". On December 5th we will have an activity and fellowship with Carol Covert. Any questions or if you would like to join us, email Bernie Hughes at or call me at 610-715-8201 We will resume our regular study on Tuesday January 2, 2018.
Several Small Groups Meet During the week
Check out the website for a complete listing of All Small Group Opportunities.
---
Weekly Memory Work - Are You Up to the Challenge?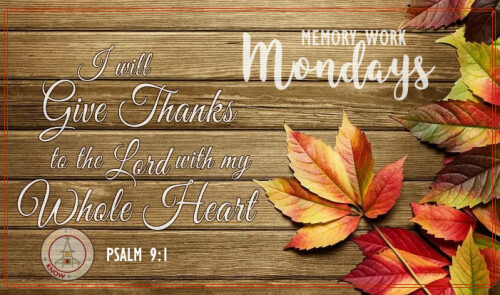 ---
Opportunities to Serve
CANNED FOOD Challenge
Thanksgiving and Christmas are big draws on the food bank supplies.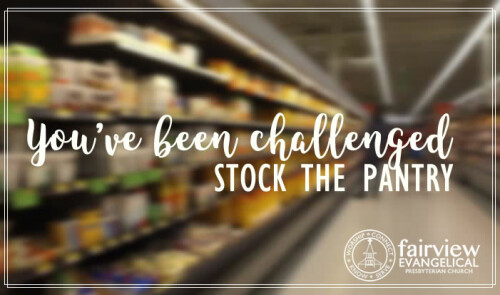 Bobbie Mackey is challenging our congregation to collect 1 canned food item per person THIS WEEK. Help us fill our collection box...Your donations are greatly appreciated.
Deck the Halls of Fairview EPC for Christmas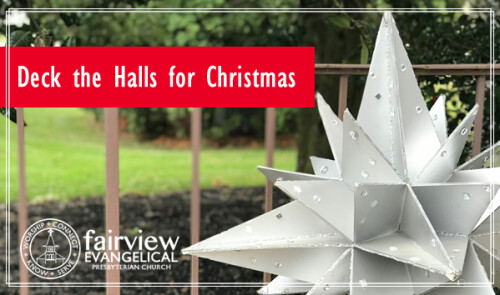 We are in need of volunteers to help decorate Fairview for Christmas on Tuesday, November 28th beginning at 8:30 a.m. Please consider coming out and helping that morning. We need to do the tree, the garlands the candles in the sanctuary windows and we need a few hands in the kitchen to clean up and prepare the "Silent Night" plastic candle holders for Christmas Eve Worship. Many hands make light work. Please email the church office at or contact Linda Gyrath at 610-458-8337. Many hands make light work!
Serve Refreshments December 17th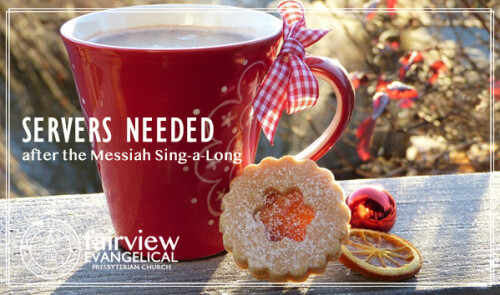 Light refreshments will be served in the foyer following the Messiah Sing-A-Long event, December 17th. We are looking for a few volunteers to help with this time of fellowship. Please email the church office or contact Linda Gyrath at 610-458-8337.