Every Wednesday, 7:00 PM - 8:30 PM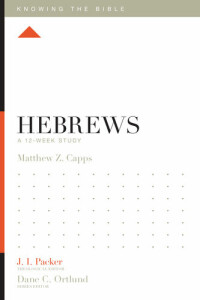 Wednesday Evening Women's Bible Study is studying the Book of Hebrews. This study walks readers through one of the most beautifully written and theologically rich books in the New Testament.
We hope you will join us! Our ladies are diligent in keeping their time from 7 PM until 8:30 PM.
For additional information contact Barb Finch at 610-942-3735 or .
Winter Schedule
Jan. 9 Week 1: Overview
Jan. 16 Week 2: Introduction: The Supremacy of Jesus Christ (1:1–4)
Jan. 23 Week 3: Jesus Is Superior to Angelic Beings (1:5–2:18)
Jan. 30 CANCELLED // Snow and Ice
Feb. 6 Week 4: Jesus Is Superior to Moses (3:1–4:13)
Feb. 13 CANCELLED // Snow and Ice
Feb. 20 CANCELLED // Snow and Ice
Feb. 27 Week 5: Jesus Is the Superior High Priest, Part 1 (4:14–5:10)
Mar. 6 Week 6: A Warning against Apostasy (5:11–6:20)
Mar. 13 Week 7: Jesus Is the Superior High Priest, Part 2 (7:1–8:13)
Mar. 20 Week 8: Jesus Is the Superior Sacrifice (9:1–10:18)
Mar. 27 Week 9: The Call to Faith (10:19–11:40)
Apr. 3 Week 10: The Call to Endurance (12:1–29)
Apr. 10 Week 11: Final Exhortations (13:1–25)
Apr. 17 NO STUDY // Passion Week
Apr. 24 Week 12: Summary and Conclusion