Every Sunday, from 09/09/2018 to 10/14/2018, 9:15 AM - 10:15 AM
This fall, we have a new 2 part series!
The Search for Meaning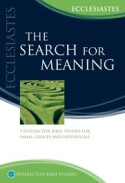 It's the greatest research project of all time. The wisest man in the ancient world, with almost limitless resources at his disposal, sets out to find the answer to the biggest conundrum of all time: the meaning of life. Why do bad things happen seemingly at random to both good and bad people? What is the point of all our toiling and striving if we all die regardless? Is there anything really to be gained?
The brilliant author of Ecclesiastes applies his mind to these and many other perplexing questions with a God-centred honesty and wisdom. To a world like ours, so obsessed with the pleasures of the moment, the book of Ecclesiastes has much to say. For Christians who live in such a world, it offers many challenges, and equips us to live with hope and faith.
View Contents, Introduction and Chapter 1
---
Burning Desire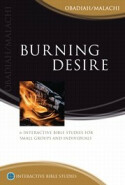 The smallest charges can be the most explosive. The books of Obadiah and Malachi are among the briefest in the Bible, but their contents are pure dynamite. Both prophets provide us with portraits of a God who can be passionate, weary with displeasure, possessive and angry. Even a God who hates. And yet this same God keeps his promises, does not change, and throws open the windows of heaven to those who turn to him.
In the light of the gospel, Burning Desire expolores the different fates of Jacob and Esau's descendants, one of which will be blessed with a Saviour who will rise from the ashes of judgment with "healing in his wings".